The 2018 Lean Transformation conference will be held at the Greater Tacoma Convention Center, November 6 - 7.
Sponsorship opportunities for this year's conference will be updated soon. Please email results@gov.wa.gov with your contact information if you would like to be added to the invitation list.
For future planning, below were the sponsorship opportunities offered in 2017. Please note, however, that these opportunities may change in 2018.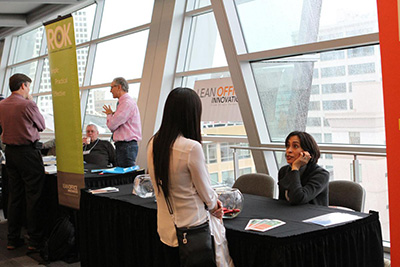 Results Washington, Office of the Governor, invites your organization to participate in the 6th annual Washington State Government Lean Transformation Conference. This event typically draws 2,000 attendees, including employees and leaders in state and local government, as well as private sector partners. It is an excellent opportunity to connect key decision makers with the valuable resources your organization provides.
Opportunities to Participate
Support from partners like you is critical to the success of this popular event focused on government innovation. Participation occurs in several ways. In addition to the table below with standard sponsorships, we also have a number of additional opportunities, such as renaming a room with your organization's name during the event. Keep reading to find these additional opportunities.
Here are the standard sponsorship opportunities.
Support Level
Platinum Sponsor
Gold Sponsor
Silver Sponsor
Cost
$5,000
$3,000
$500
Number of 8-foot skirted tables
3
2
1
Table location
Highest traffic area
High traffic area
Moderate traffic area
Organization name listed in the program
Yes
Yes
Yes
Advertising in program
1 page color
1 page
black & white
-
Complimentary parking passes
4
3
1
Sponsorship recognition slide displayed on screen in the exhibit hall
Yes
Yes
-
Organization logo displayed on sponsorship appreciation page of program
Yes
Yes
-
Organization logo displayed on event website with a link to your organization's homepage
Yes
Yes
-
Organization logo displayed on sponsorship appreciation banner on the main stage in the exhibit hall
Yes
Yes
-
Sponsorship level recognition certificate for display at your table
Yes
Yes
-
Organization verbally recognized in conference welcome
Yes
-
-
Sponsor Package Includes
Each 8-foot skirted table includes two chairs and a wastebasket. 
Name badges will be provided for up to six employees per organization. 
Power is included with each table. 
Free Wi-Fi is available throughout the facility.
Spaces include tables only. Piped and draped booth walls are not included.
Additional Tables
There will be a $50 charge per table for any extra tables you may need.
Additional Opportunities
Add onto your standard sponsorship by choosing one or more of the following opportunities. Most of the opportunities only require one sponsor, so you may want to register early.
Breakout Room      $1,500 or $3,000
When you sponsor a breakout room, the room gets renamed with your company name. Your logo will be proudly displayed on the outside of the room and on the draping behind the podium. You will have an additional dedicated table right outside your room to allow for a direct connection with attendees in between sessions. Plus, you can fill each chair inside the room with your swag (nominal value). The lower price sponsorship is for rooms that seat 140-300 and the higher price is for rooms that seat 300 or more.
Designated Wi-Fi for Sponsors      $1,000
Be a hero to your fellow sponsors by providing a sponsor wi-fi. The building's current wi-fi is used by all of the attendees which slows down the connection for sponsors. This additional sponsor opportunity provides a designated connection just for sponsors. Your company name will be on the cards that will be handed out to sponsors with the wi-fi password. Your company name will also be mentioned in the program.
Photo Booth      $2,000
This fun opportunity places your company name and logo in every picture taken at the social media photo booth. The "step and repeat" banner will have your logo along with the Lean Transformation logo. Your company name will also be mentioned in the booth and the program.
Charging Stations      $1,500
Provide an invaluable customer service with this exclusive branding opportunity. Your company will provide a convenient area for attendees to re-charge cell phones, tablets, computers, etc. Your company logo will be clearly visible on the charging kiosk throughout the duration of the event.
Additional Advertising Opportunities
Advertising space is available in the program at the following rates:
Half page (3.75 x 5)     $150
Full page (8 x 5)           $200
Two full pages             $300
Please let us know if you are interested in additional advertising.
Logos and Advertisements
Your organization's logo and advertisements must be submitted to results@gov.wa.gov by September 7, 2017 to be included in the printed materials. Please use a jpg format for the logo and a pdf format for the advertisement(s).
Setup & Breakdown Times
Setup time is Monday, October 16, from 11am-6pm. Final setup and adjustments may be made between 7 and 8 am on Tuesday, October 17. Registration opens at 8 am. Breakdown time is Wednesday, October 18, from 1:45– 3:00 pm.
Giveaways and Drawings
Please be considerate of the fact that most attendees will be government and other public sector employees. In keeping with ethics guidelines, drawings and door prizes are not permitted at this event. Booth giveaways are permitted, but items must be of nominal value.
How to Register
Register online at Eventbrite. Sponsor registration must be completed by September 15, 2017. 
If you need assistance registering, please call KayLyne Newell at (360) 688.0600.
Payment
Pay online through the Eventbrite registration system or provide a check by mail. Checks must be received in our office no later than October 6, 2017. Please make checks payable to the Office of Financial Management.
Mail payment to:
Office of Financial Management, Attn: Lean Conference
P.O. Box 43113
Olympia, WA 98504-43113
Cancellations
Full refunds will be issued for cancellations received by September 29, 2017.  Parties cancelling on or after September 30, 2017 will be responsible for the full fee.
Questions
For more information please contact KayLyne at kaylyne.newell@gov.wa.gov or at (360) 688.0600.