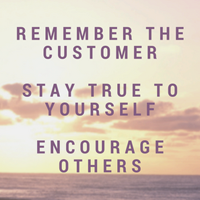 By Rebecca Orbeck
Our highest-rated speaker at Washington's fifth annual Lean conference this fall was Dr. Peter Hutchinson, who brought a wealth of life lessons to share with the nearly 2,000 attendees.
For those of you who couldn't attend – or who would like a refresher – here are a few key lessons of his that resonated with me.
1. "Believe in what we do and who we do it for." Seems simple enough, right? Yet as we plug along in our daily routines it becomes easy to disconnect our brain from our heart, searching for the wins around every corner and making sure our data matches the strategic plan. We need to continue to remind ourselves why we are doing what we do and whom we are doing it for. Keep your passion and your customer in mind.
2. "Know what you believe in and say so." This speaks to being open and transparent even if it may lose you some fans in the process. I've come to learn that not everyone is going to agree with me all the time, and that's okay. It's important is to stay true to myself, values and beliefs. Having a safe environment in which team members can express concerns, share ideas and be honest is a great way to engage everyone in making improvements.
3. "A leader is someone who changes things to make things better." For many of us, this is exactly what we hope for in a leader: Someone who builds people up by encouragement, communicates often and allows the opportunity to brainstorm ideas, implement, fail and keep trying.
For more tips, stay tuned: We'll be posting short videos of this talk online soon at www.results.wa.gov.
Rebecca Orbeck is a member of Results Washington's Lean Fellowship Program.