Join our keynote speakers as Results Washington re-envisions what a Q&A session can look like. This will be a great opportunity to ask questions, hear what is on the minds of other attendees and glean more from the thinking of the keynote speakers to deepen the experience. This won't be your typical Q&A session and should take pressure away from asking "the perfect question".
Presenter(s):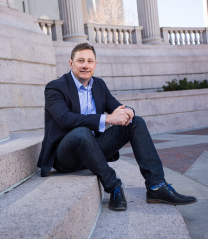 Author of Peak Performance
Risk It All
How to handle risk in a government setting when you don't want to end up in the news. In this presentation Brian Elms, author of the book Peak Performance, will discuss working in a municipal setting and failing over and over and over again in attempt to create change. He will talk about one major failure and his experience taking the risk to move forward. Learn how and his team moved beyond and what was at stake.
Brian Elms is the author of "Peak Performance" and formerly the Director of Peak Academy and Analytics for the City and County of Denver. He specializes in process improvement and has more than 15 years of experience providing political, policy, legislative and program management expertise to government agencies, elected officials, trade associations and nonprofit organizations.
Brian started his career in public service after graduating from Regis University and joining the National School and Community Corps (AmeriCorps) as a team leader. After working in Washington DC for AARP, Brian moved back to his hometown and served as the Assistant Director of Government Affairs at Denver International Airport. Brian is a certified Lean Black Belt, a Six Sigma Green Belt and Change Management Professional. In his current role as Director of the Peak Academy, he developed curriculum, training and consulting services that focus on employee-led performance management and continuous improvement. Since its inception in 2011, Peak Academy initiatives have saved the City & County of Denver almost $25 million and the Academy has provided training to over 5,500 public and nonprofit professionals. He has been called a "government innovation spark plug."