Leadership and modeling the way forward
By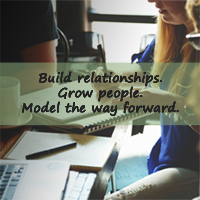 Rebecca Orbeck
Results Washington
As a member of Results Washington's Lean fellowship program, I'm learning a lot about coaching and leadership in organizations.
A key source of inspiration and reflection has been a book called "The Go-Giver Leader," a parable about a manager learning to lead. It highlights some of the leadership qualities I'm striving to develop, understand and demonstrate.
Three key learnings from the book that I've been reflecting on:
"Build your people"
"Hold the vision"
"Character is what happens when life scratches itself onto your soul"
The public sector can sometimes be a thankless job, let's be honest, and we aren't here for the praise. We are here to support Washingtonians as best we can. What we do affects the lives of our friends, families, neighbors and people across this state. For many of us, that's exactly why we go into public service.
To make great things happen takes great leaders; leaders who are emotionally intelligent, lead with their heart, and value character. As the book powerfully shows, the best leaders do so much more than simply track data, meet goals and develop measures. They build relationships, grow and develop their people and model the way forward.
I'll end with a quote from the book that I found particularly inspiring:
"Lead from the heart. Give people something good to live up to – something great – and they usually will."
That's what our teams and leaders across state government can do: be part of making life in Washington be something good -- and hopefully something great.
Rebecca Orbeck is a member of Results Washington's Lean fellowship program.