What has Lean done for us lately?
Washington state still has a way to go on its Lean journey -- doesn't everyone? -- but today we're taking a pause to reflect on some of the real-world results that state government has seen from Lean improvements.
The short form: state agencies are saving millions of dollars, avoiding millions more in future costs and saving hundreds of thousands of hours for Washingtonians. Lean principles have been put to work simplifying documents, shortening processing times, replacing phone waits on hold with faster online live-chat responses, and much more.
Here's a sampling. (For details, click on the image.)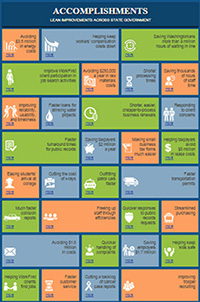 The Department of Enterprise Services is saving $1.6 million a year in lease costs.
Several agencies are now responding twice as fast to public record requests.
Many agencies, including Labor and Industries, the State Patrol, the Department of Revenue and the Gambling Commission, have made forms much shorter and easier to use.
DSHS freed up caseworkers to help with child safety, trimmed $3.5 million in energy costs and reduced X-ray costs by $265,000 a year.
The Department of Health (DOH) sped up water system loans and death certificate processing. 
DOH cut by 75 percent the time it takes to handle Women, Infants and Children program complaints.
The Office of Administrative Hearings, faced with outdated, failing case software, saved $150,000 by building a replacement system using current staff. 
The Department of Transportation eliminated an 8.5-month backlog in collision reports.
Labor and Industries increased recovery of overpayments by $1.4 million.
And those are just agency-level results. We're also using Lean principles and tools to tackle some of the biggest challenges out there, like improving education, fostering a prosperous economy, cleaning up the environment and more.
But we'll save that for another blog post. There's lots to talk about.