Healthy Moms, Healthy Babies, Healthy Communities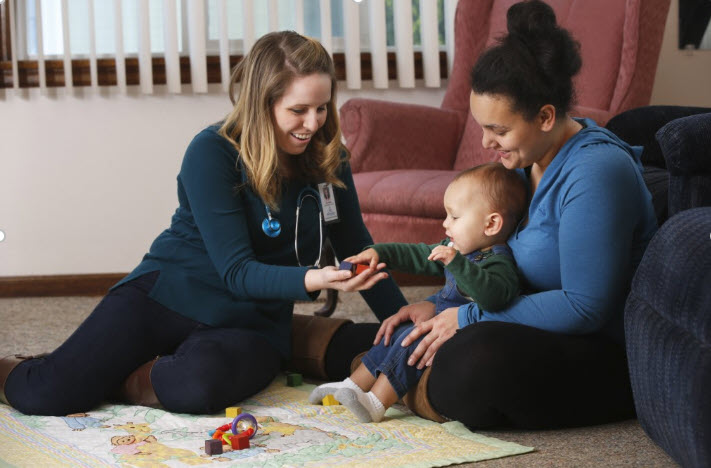 This is a story about a woman we call Jazmine. She is a composite of the experiences of several women who found help during pregnancy and beyond through a range of public services.
Jazmine recently relocated to Tacoma, Washington, to live with her aunt. Jazmine was 19 weeks pregnant with her first child, and had few connections to pregnancy and childcare resources. Her aunt reached out to her pastor at church for advice. The pastor connected Jazmine with Ameedah Hasan, a Health Minister at their church. Health Ministers like Ameedah are part of the volunteer-based Black Infant Health/Health Ministry program, which Tacoma-Pierce County Health Department supports.
Since Jazmine didn't have health insurance and had only seen a doctor once early in her pregnancy, Ameedah told Jazmine about the Maternal Child Outreach Team (MCOT) at the health department. The team supports communities in Pierce County with higher infant mortality rates and provides outreach to African American women. Jazmine was interested in enrolling in health insurance and Ameedah made a referral to MCOT Social Worker RaTanya Ozolin.
RaTanya assessed Jazmine's needs and interests, starting the process for health insurance enrollment and to find a provider. RaTanya also told her about the Women, Infants, and Children (WIC) nutritional support program, resources to help her quit smoking, safe infant sleep practices, and childbirth classes.
As they talked, RaTanya heard Jazmine's hopes for her baby, and her worries about being a first-time mom. Realizing Jazmine might benefit from ongoing support, she told her about the health department's Nurse-Family Partnership program. This is an evidence-based program for low-income first-time moms. A registered nurse works with each mom early in her pregnancy and provides ongoing home visits until the child is two years old. Research has shown participation in the Nurse-Family Partnership improves pregnancy outcomes, child health and development, and a family's economic self-sufficiency.
Public Health Nurse Taleema Love received the referral and set up a home visit. She met with Jazmine throughout her pregnancy, providing education on pregnancy, delivery, breastfeeding and preparing for her baby. With the support of her team, Jazmine was able to quit smoking—which was especially important to her after she learned the risks smoking posed to her unborn baby, including an increased risk for Sudden Infant Death Syndrome (SIDS).
As delivery approached, Taleema shared with Jazmine the importance of a safe sleeping environment for her baby and provided a portable crib. Taleema showed Jazmine how to use the crib safely and pack it away. The portable crib allows Jazmine to keep her baby in the same room with her but in a separate, safe sleep area, an arrangement that meets the American Academy of Pediatrics recommendation for safe infant sleep. During this visit, Taleema also stressed the importance for Jazmine's baby to sleep on his or her back, avoid smoke exposure, and safe bedding.
In addition to Taleema's visits, Health Minister Ameedah kept in contact with Jazmine during the pregnancy, even throwing her a baby shower at the church. Because of all she had learned from Taleema and Ameedah, Jazmine began breastfeeding in the hospital and both mom and baby were able to go home just a few days after delivery.
When Alexis was a week old, Jazmine joined an African American peer breastfeeding support group she learned about from Ameedah. None of Jazmine's immediate family or friends had experienced breastfeeding. She found the group supportive and a source of new friendships. When Alexis turned one, she participated in a Celebration of Life party, which the Health Ministry hosted. This was a milestone for baby Alexis and other African American babies that marked a healthy first year.