Underage marijuana use has both negative consequences for the individual and high socioeconomic costs to society. Preventing or delaying the onset of underage marijuana use is associated with positive outcomes, such as improved school performance, reduced youth delinquency and positive mental health.
Students who use marijuana often have difficulty learning, remembering, and problem-solving. These students are more likely to skip school, get lower grades and are less likely to graduate. Marijuana use among 10th graders is nearly three times that of the percentage who smoke cigarettes; and nearly one-half of 10th graders report that it is easy to get marijuana (Source: 2016 Healthy Youth Survey [HYS], February 2017).
The current impacts of recreational marijuana legislation (Initiative 502) are being monitored and outlined in a report issued by the Office of Financial Management's Forecasting and Research Division: (Source Monitoring Impacts of Recreational Marijuana Legalization).
We monitor 10th grade marijuana use at the state and local level to understand the implications of policy changes on adolescent drug use over time.  The data also provide an indication of statewide prevention strategy effectiveness, and help to determine the need for additional investments as statewide trends change and local high need communities are identified.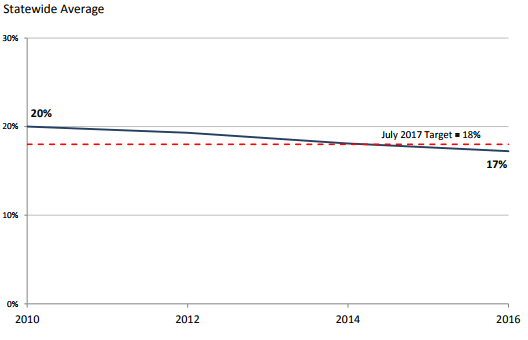 With the passage of Initiative 502, the bill legalizing recreational marijuana, we expected to see changes in marijuana use patterns. Marijuana use is leveling off while the use of other drugs is declining in the State of Washington and nationally.
Reported use of marijuana (in the past 30 days) had decreased since its high in 1998. From 2006 to 2010, however, reported use in 10th graders began climbing slightly. From 2010 and forward, the rate of reported use moderated downward, to 17.2% in 2016. A 5% net reduction was realized from 2014 to 2016.
Although the 10th grade trend in Washington is gradually improving, it still remains above the national average of 16.6%.
The HYS data revealed that, of the number of days within the past 30 days, the percentage of 10th graders reporting marijuana use has also declined (e.g., marijuana use for 10 or more days was 5.5% in 2016, down from 6.2% in 2010). However, youth surveyed for the 2016 HYS indicated that marijuana is not harmful, easy to obtain, and are accessing it from friends. The perceived ease of marijuana availability among 10th graders declined from 54% in 2010 to 48% in 2016.Since 2006, the rate (among 10th graders) of perceived low to no risk of harm from marijuana use has nearly doubled, from 18% to 35%.
The Behavioral Health Administration (BHA) is prioritizing implementation of Evidence Based Practices with marijuana outcomes by funded community coalitions.
BHA participates in an interagency workgroup with other state agencies to provide a consistent public education message.
Sustain Tribal prevention programs and the Community Prevention and Wellness Initiative, including the Prevention/Intervention Program.
Provide public education and awareness efforts for middle school aged youth and their parents.
Develop key prevention messages with partners for statewide distribution.
Develop a toolkit to prevent underage use of marijuana.
Support community-based organizations, regional and statewide partners in distributing messaging.
Develop a prevention marketing campaign with state partners.
Implement and evaluate a prevention marketing campaign.
Determine strategies for creating policies that prohibit the sale of marijuana products that appeal to youth.
Additional questions were added to the Healthy Youth Survey to determine the source and the method of consumption of marijuana by youth.
See analysis and plan at: BHSIA Action Plan - 10th Grade Marijuana Use
Find general information about substance abuse prevention and access prevention discussions and online training opportunities at www.theAthenaForum.org. 
Reported by: Department of Social and Health Services