Our purpose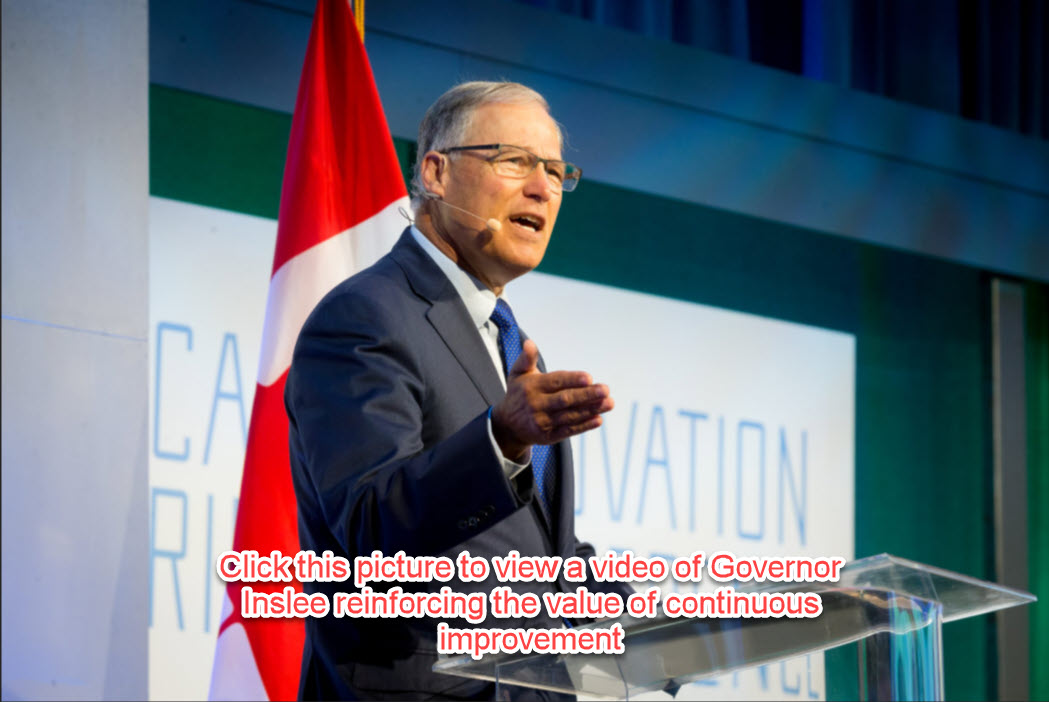 Results Washington recently established the Enterprise-wide Lean and Continuous Improvement Community of Practice in alignment with Governor Inslee's executive order 13-04 as a platform for continuous improvement (CI) practitioners to:
Share knowledge, experience and expertise to help others
Obtain continuous improvement strategies and resources
Receive support on any CI efforts their organization or agency is or may be implementing
Continue fostering a CI culture throughout the state that helps us reduce inefficiencies and produce quality products and services for all citizens
Join the Community!
The Community meets every third Tuesday of the month at 10:30 a.m. – 12:00 p.m. These meetings are optional and open to all who would like to attend. To join the distribution list, click the button below!

What to expect
At our Community meetings, we hope that you can:
Expand or refresh your knowledge and skillset on various topics and methodologies through topic teachings
Learn from real implementations and experiences through project shares
Collaborate with others across the state as well as partnering states!
Have fun!
Schedule
Date

Topic & Presenter

Project Share & Presenter

November 15, 2022
Agenda & The Blast Recap
Strategic Plan Development
Jeannie Bowen | Results Washington
Presentation & Handouts
Group Activity
December 20, 2022
Agenda & The Blast Recap
Integrating DEI into CI Efforts
Michaela Doelman | Office Financial Management
Presentation
The Approach to Employee Engagement Survey Results
Marie Burrows | Employment Security Department
Presentation
January 17, 2023
Agenda & The Blast Recap
Delivering Change
Jennifer Renhard & Jody Guy | Liberum
Presentation & Handouts
February 21, 2023
Agenda & The Blast Recap
How Do I Climb Out of Mental Valleys (And Why it Matters to Creativity and Innovation)
Jennifer Phillips | Department of Social & Health Services
Presentation & Handouts
March 21, 2023
Agenda & The Blast Recap
Group Activity: Design Thinking
Jessica Dang | Liquor & Cannabis Board
Presentation & Handout
Human-Centered Design
Garrett Landram | Department of Social & Health Services
Presentation
April 18, 2023
Game the Data
Tammi Leclerc & Brian Mark | Washington Technology Solutions, Byron Mukai | Employment Security Department
May 16, 2023
Customer/Focus Group Feedback
Megan Oczkewicz | Health Care Authority
Group Activity
June 20, 2023
CI Program Design & Evaluation
Cyndee Baugh | Department of Revenue
Access Equity – Business Diversity Management System
Sarah Erdmann | Office of Minority & Women's Business Enterprises
July 18, 2023
TBD
 
August 15, 2023
Lean Principles in Performance Management
Tim Dyeson, Aaron Cunningham, & Matthew Montgomery | Health Care Authority
 
Note: meeting materials will be posted prior to each meeting.